RandM Tornado 7000: Mentholated Vaping Bliss with Blackcurrant
As an e-cigarette sales professional for over three years, I've tested countless devices and e-liquids in my quest to find the ultimate vaping experience. My search ended the moment I discovered the
RandM Tornado 7000
loaded with Blackcurrant Menthol e-liquid. This high-powered
e-cigarette
combined with the crisp coolness of the Blackcurrant Menthol flavor transported me to a mentholated vaping paradise.
The
RandM Tornado
7000 is an e-cigarette that means serious business. It features a 3000 mAh battery that can keep even the heaviest vapers puffing for 2-3 days between charges. The massive 6.5 ml e-liquid tank means fewer refills and more vaping satisfaction. An adjustable temperature control allows you to customize the warmth of your vapor from a refreshing cool mist to a cozy dense cloud. The built-in LED lights in a rainbow of colors make your vaping sessions fun and funky.
While the RandM Tornado 7000 is an incredibly impressive device, the true star of the show is the Blackcurrant Menthol e-liquid. This flavor is described as "a blast of fresh-picked blackcurrants followed by an arctic rush of menthol." That description does not do this e-liquid justice. On the inhale, your taste buds will be dazzled by the sweet and tart flavor of blackcurrants balanced with a brisk pepperminty menthol. The exhale is a refreshing burst of coolness with lingering notes of dark berry. The menthol provides a chill that will invigorate your senses without overpowering the natural blackcurrant flavor. Just one puff of this e-liquid and you'll feel refreshed and rejuvenated as the mentholated vaping bliss washes over you.
The RandM Tornado 7000 and Blackcurrant Menthol e-liquid are the apex of vaping technology and flavor. Once you experience the rush of the menthol combined with the sweetness of blackcurrants, there is no turning back. The cutting-edge device delivers massive clouds of vapor and the long-lasting battery means your vaping euphoria can continue from dawn until dusk. The blackcurrant and menthol medley will have your taste buds roaring for more. If you crave an invigorating vaping experience with the coolness of menthol and tartness of berries, look no further than the RandM Tornado 7000 and Blackcurrant Menthol. This power duo is poised to thrill even the most hardcore vaping aficionados. Take a walk on the chilled side and ignite your vaping passion with the RandM Tornado 7000 and Blackcurrant Menthol!
Main Specifications:
Puffs
7000
Battery
850mAh (Rechargeable Inner Battery)
E-liquid Capacity
14.0ML
Type of Coil
Mesh Coil (1.2Ohm)
Nicotine Strength
2% (20mg/ml) & 5% (50mg/ml)
Surface Treatment Style
Anthropoid Style
Regular Flavors
1. Cool Mint 2. Lush Ice 3. Tangerine Ice 4. Strawberry 5. Gummy Bear 6. Blueberry Ice
7. Mango Ice 8. Peach Ice 9. Banana Ice 10. Grape Ice 11. Pink Lemonade 12. Pina Colada Rum
13. Mixed Berries 14. Banana Milkshake 15. Strawberry Watermelon 16. Red Apple Lemon
17. Strawberry Kiwi 18. Cotton Candy 19. Strawberry Banana 20. Strawberry Ice 21. Pineapple Ice 22. Red Energy Ice 23. Blue Razz Lemonade 24. Red Apple Ice 25. Berry Lemonade
26. Blueberry Bubblegum 27. Bluesour Raspberry 28. Mr Blue 29. Apple Peach Pear
30. Blueberry Pomegranate 31. Vimto 32. Kiwi Passion Fruit Guava 33. Cola 34. Sour Apple
35. Blackcurrant Menthol 36. Tiger Blood 37. Peach Blueberry Candy 38. Peach Mango
39. Strawberry Red Bull 40. Blackcurrant Ice 41. Strawberry Watermelon Lemonade 42. Cherry
43. Blue Razz Cherry 44. Skittles 45. Blueberry Raspberry 46. Strawberry Grape
47. Blueberry Cherry Cranberry 48. Apple Berry Blast 49. Cherry Cola 50. Lemon and Lime
51. Pink Burst 52. Pacific Cooler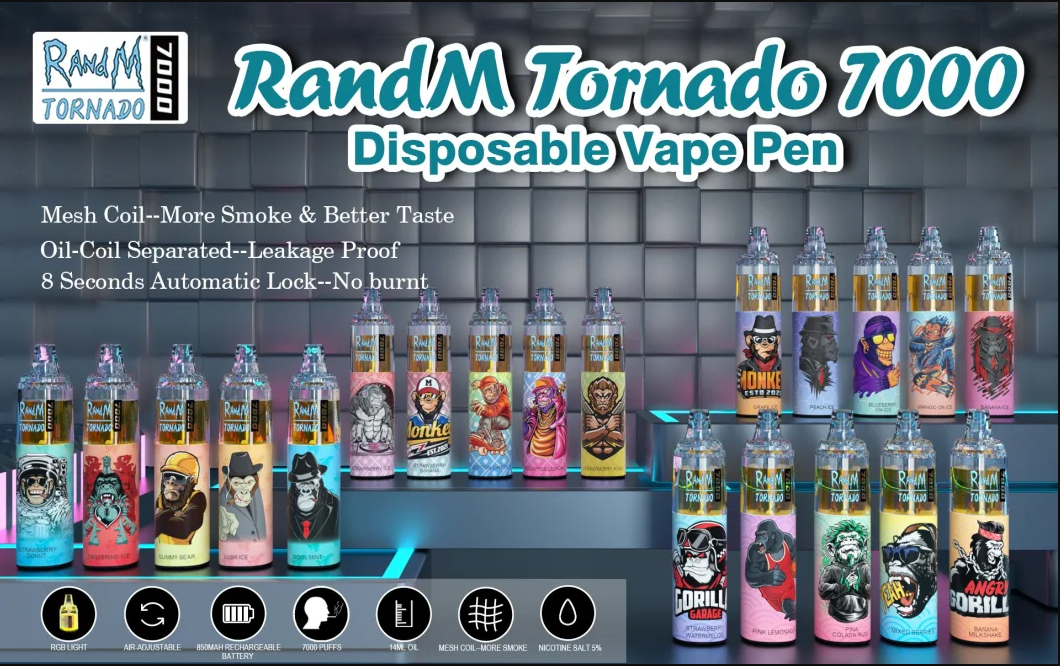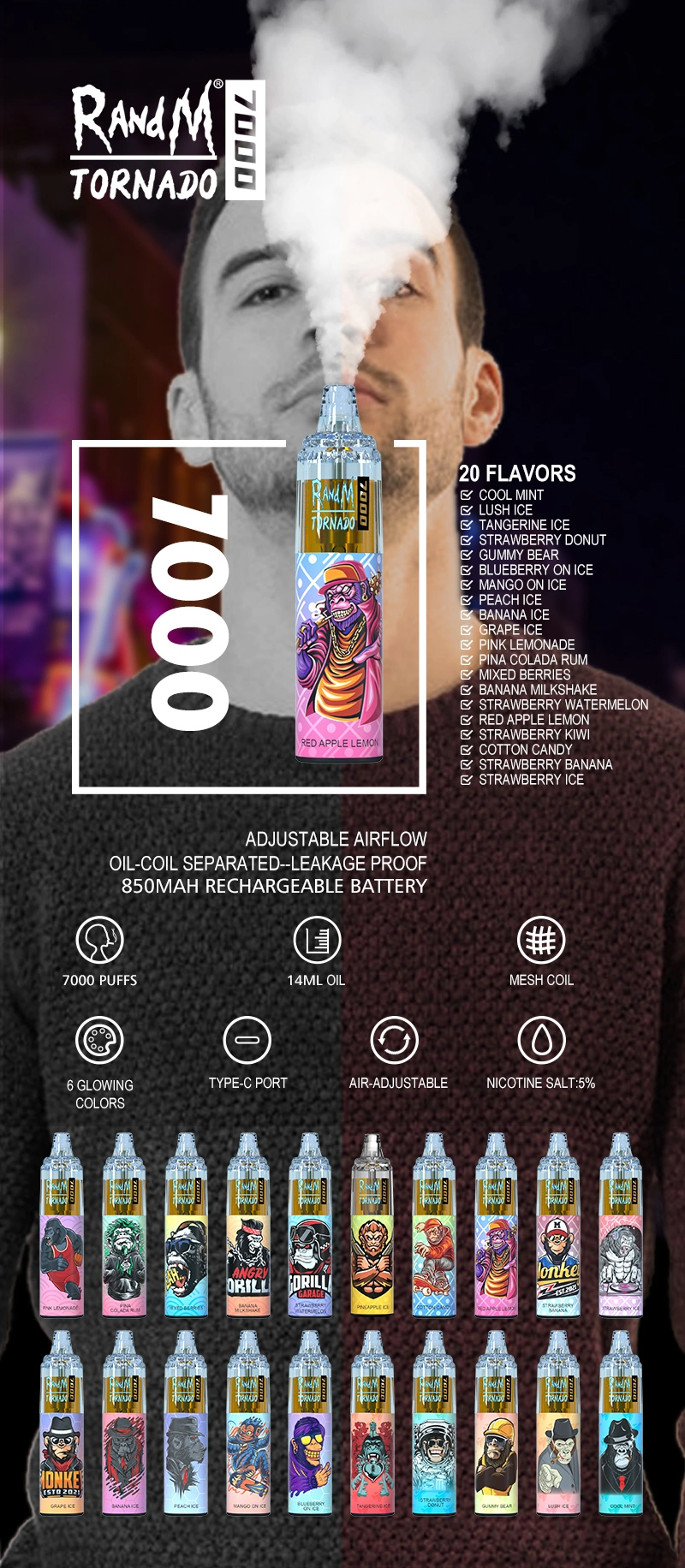 Hot Selling Disposable Randm Tornado 7000 Puffs 850mAh Battery E-Cigarette Vape Pen Device Pod
| | |
| --- | --- |
| Brand | Randm tornado 7000 Puffs |
| MOQ | 100pcs |
| Puff | 7000 Puffs |
| Salt nic | 0%/2%3%/5% |
| Flavors | 50 |
| Bettery Capacity | 1000mAh |
| Shipping | Air shipping/Sea shipping |
| Lead time | 3-5 days for ready stock,around 15 days cusyomize product |
Each box contain 10pcs
400pcs/carton
Carton size (cm): 29*29*69 cm