RandM Tornado 7000: The Ultimate Vaping Experience in Blue Razz Cherry Flavors
As an e-cigarette salesperson for over three years, I have tried what seems like every vaping product and e-juice flavor on the market. Nothing has delivered an experience like the
RandM Tornado
7000 vaporizer paired with Blue Razz Cherry e-juice flavors. This is the ultimate combination for vapers chasing clouds and flavor.
The Tornado 7000 is RandM Vapes' most advanced vaporizer yet. It is built to withstand heavy use with durable aircraft-grade aluminum and can produce up to 220 watts of power for massive vapor production. A high-definition LED screen displays your wattage, voltage, battery life, and other key stats. The Tornado 7000 performs like a dream and is designed to last.
While the Tornado 7000 wins on performance and build quality alone, the Blue Razz Cherry e-juice flavors put it over the top. RandM Vapes partnered with popular e-juice brand Vapetasia to produce flavors modeled after classic cherry and blue raspberry candies and drinks. The flavors are spot-on and provide an explosion of sweet and tangy flavor with every hit.
As an
e-cigarette
salesperson, I have sold many devices and e-juices, but nothing provides an experience like the Tornado 7000 and Blue Razz Cherry e-juice. The Tornado 7000's power and performance satisfy even the most advanced vapers and cloud chasers. The Blue Razz Cherry flavors are deliciously sweet and tangy, pleasing flavor chasers and those with a sweet tooth. Any vaper looking for the best experience needs to try this setup.
In summary, the
RandM Tornado 7000
and Blue Razz Cherry e-juice flavors have earned my highest recommendation. As an e-cigarette salesperson for over three years, I have not found another device and e-juice that can match the Tornado 7000's performance, build quality, and flavor. This is the ultimate vaping experience for vapers of all levels. Massive clouds, sweet and tangy flavor, and a device built to last – what more could you want? The RandM Tornado 7000 and Blue Razz Cherry e-juice flavors are vaping paradise.
Main Specifications:
Puffs
7000
Battery
850mAh (Rechargeable Inner Battery)
E-liquid Capacity
14.0ML
Type of Coil
Mesh Coil (1.2Ohm)
Nicotine Strength
2% (20mg/ml) & 5% (50mg/ml)
Surface Treatment Style
Anthropoid Style
Regular Flavors
1. Cool Mint 2. Lush Ice 3. Tangerine Ice 4. Strawberry 5. Gummy Bear 6. Blueberry Ice
7. Mango Ice 8. Peach Ice 9. Banana Ice 10. Grape Ice 11. Pink Lemonade 12. Pina Colada Rum
13. Mixed Berries 14. Banana Milkshake 15. Strawberry Watermelon 16. Red Apple Lemon
17. Strawberry Kiwi 18. Cotton Candy 19. Strawberry Banana 20. Strawberry Ice 21. Pineapple Ice 22. Red Energy Ice 23. Blue Razz Lemonade 24. Red Apple Ice 25. Berry Lemonade
26. Blueberry Bubblegum 27. Bluesour Raspberry 28. Mr Blue 29. Apple Peach Pear
30. Blueberry Pomegranate 31. Vimto 32. Kiwi Passion Fruit Guava 33. Cola 34. Sour Apple
35. Blackcurrant Menthol 36. Tiger Blood 37. Peach Blueberry Candy 38. Peach Mango
39. Strawberry Red Bull 40. Blackcurrant Ice 41. Strawberry Watermelon Lemonade 42. Cherry
43. Blue Razz Cherry 44. Skittles 45. Blueberry Raspberry 46. Strawberry Grape
47. Blueberry Cherry Cranberry 48. Apple Berry Blast 49. Cherry Cola 50. Lemon and Lime
51. Pink Burst 52. Pacific Cooler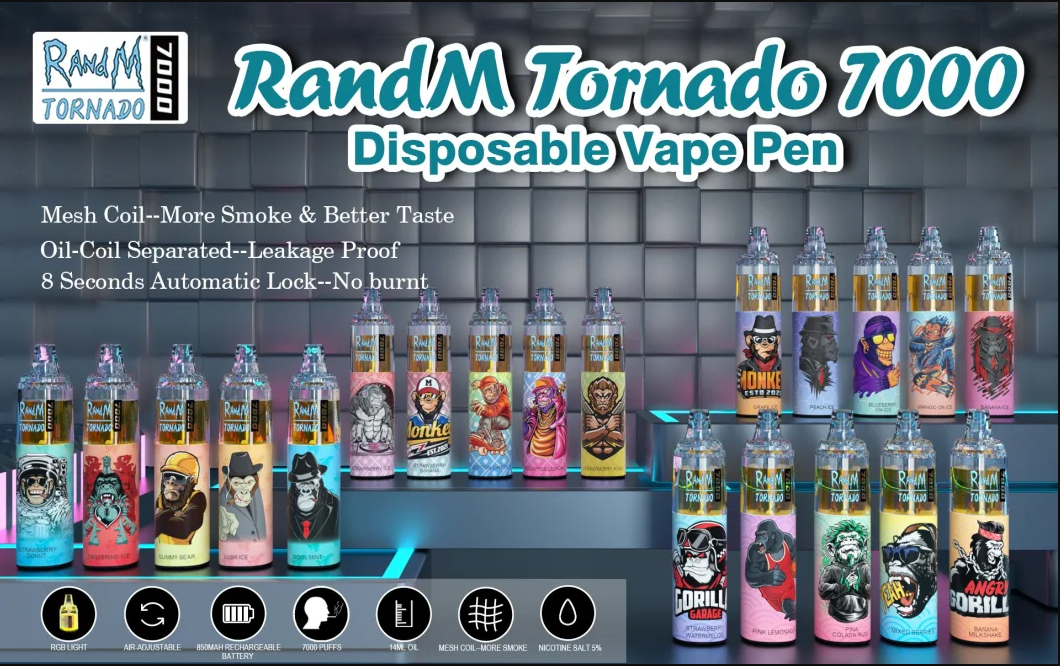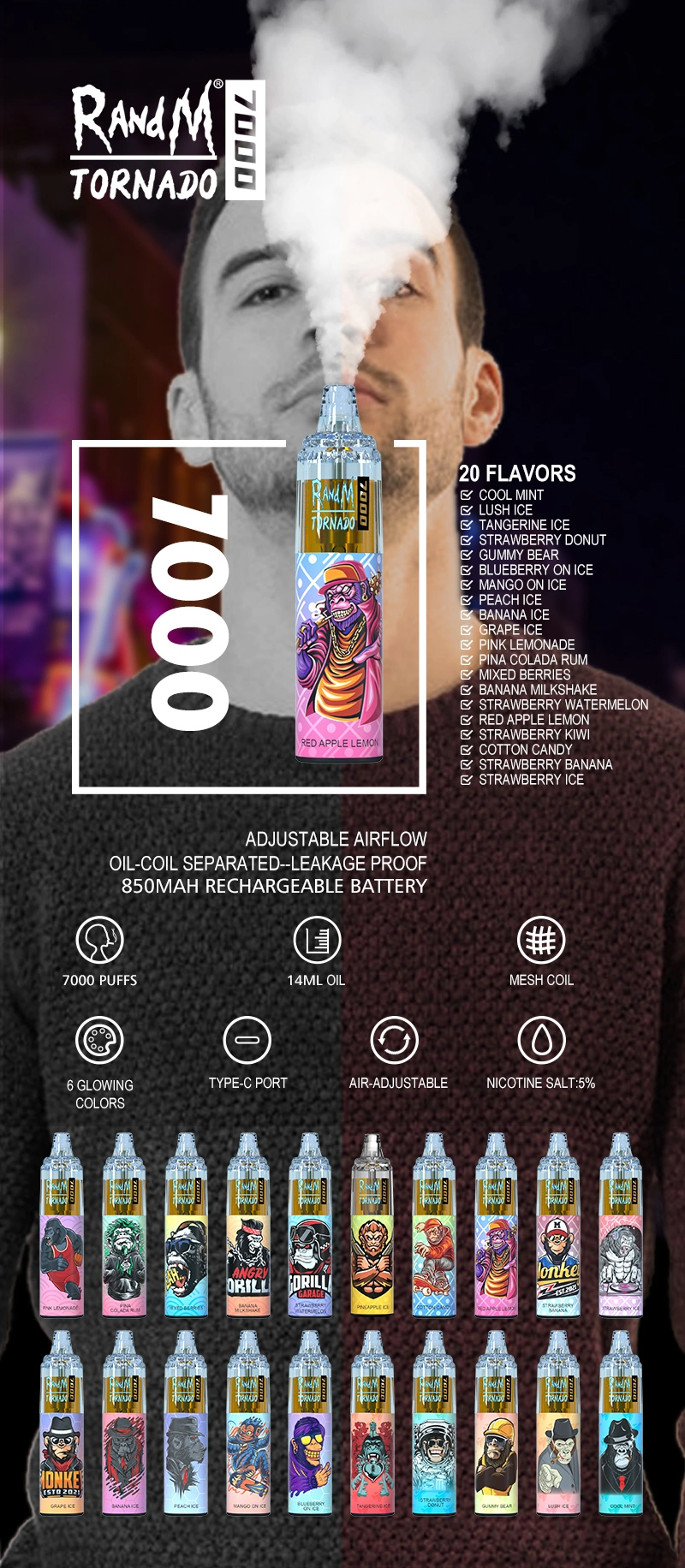 Hot Selling Disposable Randm Tornado 7000 Puffs 850mAh Battery E-Cigarette Vape Pen Device Pod
| | |
| --- | --- |
| Brand | Randm tornado 7000 Puffs |
| MOQ | 100pcs |
| Puff | 7000 Puffs |
| Salt nic | 0%/2%3%/5% |
| Flavors | 50 |
| Bettery Capacity | 1000mAh |
| Shipping | Air shipping/Sea shipping |
| Lead time | 3-5 days for ready stock,around 15 days cusyomize product |
Each box contain 10pcs
400pcs/carton
Carton size (cm): 29*29*69 cm