RandM Tornado 7000: The Ultimate Cherry Cola Vape Experience
After a decade in the vape game, I've tried it all. That's why I'm pumped to announce the new RandM Tornado 7000, packed with classic Cherry Cola flavor. This beast of an
e-cigarette
crushes the competition.
The RandM Tornado 7000 unleashes a flavor assault. With every puff, your taste buds will get slapped with tangy cherry and crisp cola. I'm talking full-on soda shop nostalgia. The flavor is so bold, your mouth will think it's a trip down memory lane.
The Tornado 7000's battery life and design are unbeatable. This baby will last you for days so you'll never run out of that fizzy Cherry Cola rush when a craving hits. It's made for adventure, so you can totally rock it anywhere without issue.
Pre-filled and ready to vape, the Tornado 7000 delivers instant soda shop gratification. Just inhale and get transported into a vivid vaping experience. Adjustable airflow and advanced coil tech provide fluffy clouds and maximum flavor with each puff.
Treat yourself to tantalizing tastes with a variety of flavors on offer. But my personal fave is Cherry Cola—the perfect blend of fruit, cola and nostalgia.
Experience the difference with RandM. The Tornado 7000 is in a league of its own for performance, quality and pure vaping bliss.
Get your hands on the
RandM Tornado 7000
now. Your taste buds will thank you, and your life will never be the same. This is vaping paradise, people! Grab it before the rest of the world catches on.
Main Specifications:
Puffs
7000
Battery
850mAh (Rechargeable Inner Battery)
E-liquid Capacity
14.0ML
Type of Coil
Mesh Coil (1.2Ohm)
Nicotine Strength
2% (20mg/ml) & 5% (50mg/ml)
Surface Treatment Style
Anthropoid Style
Regular Flavors
1. Cool Mint 2. Lush Ice 3. Tangerine Ice 4. Strawberry 5. Gummy Bear 6. Blueberry Ice
7. Mango Ice 8. Peach Ice 9. Banana Ice 10. Grape Ice 11. Pink Lemonade 12. Pina Colada Rum
13. Mixed Berries 14. Banana Milkshake 15. Strawberry Watermelon 16. Red Apple Lemon
17. Strawberry Kiwi 18. Cotton Candy 19. Strawberry Banana 20. Strawberry Ice 21. Pineapple Ice 22. Red Energy Ice 23. Blue Razz Lemonade 24. Red Apple Ice 25. Berry Lemonade
26. Blueberry Bubblegum 27. Bluesour Raspberry 28. Mr Blue 29. Apple Peach Pear
30. Blueberry Pomegranate 31. Vimto 32. Kiwi Passion Fruit Guava 33. Cola 34. Sour Apple
35. Blackcurrant Menthol 36. Tiger Blood 37. Peach Blueberry Candy 38. Peach Mango
39. Strawberry Red Bull 40. Blackcurrant Ice 41. Strawberry Watermelon Lemonade 42. Cherry
43. Blue Razz Cherry 44. Skittles 45. Blueberry Raspberry 46. Strawberry Grape
47. Blueberry Cherry Cranberry 48. Apple Berry Blast 49. Cherry Cola 50. Lemon and Lime
51. Pink Burst 52. Pacific Cooler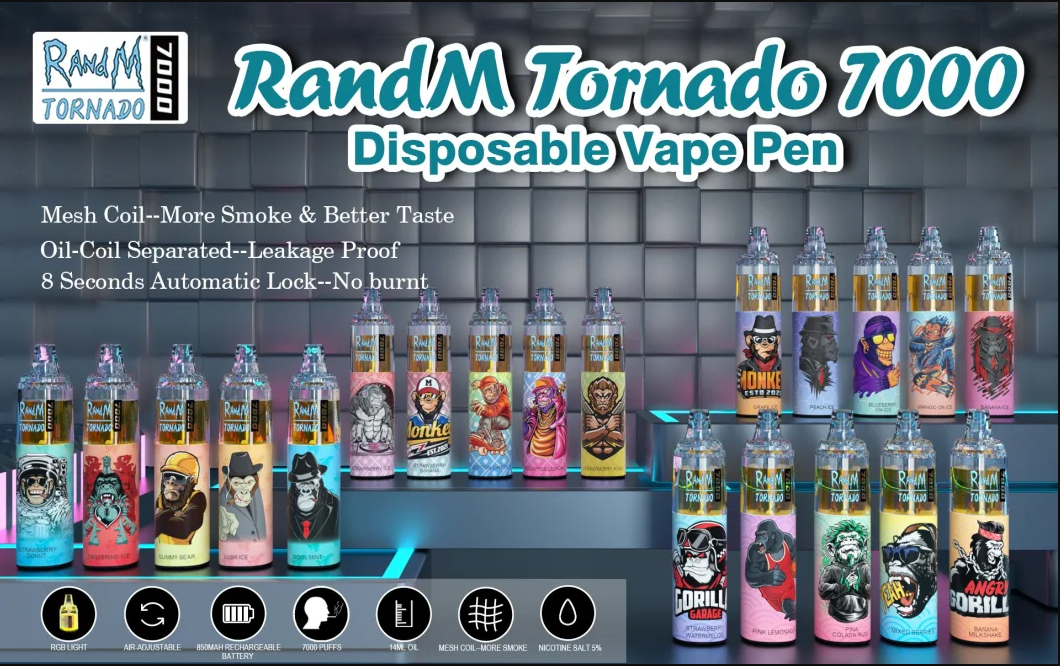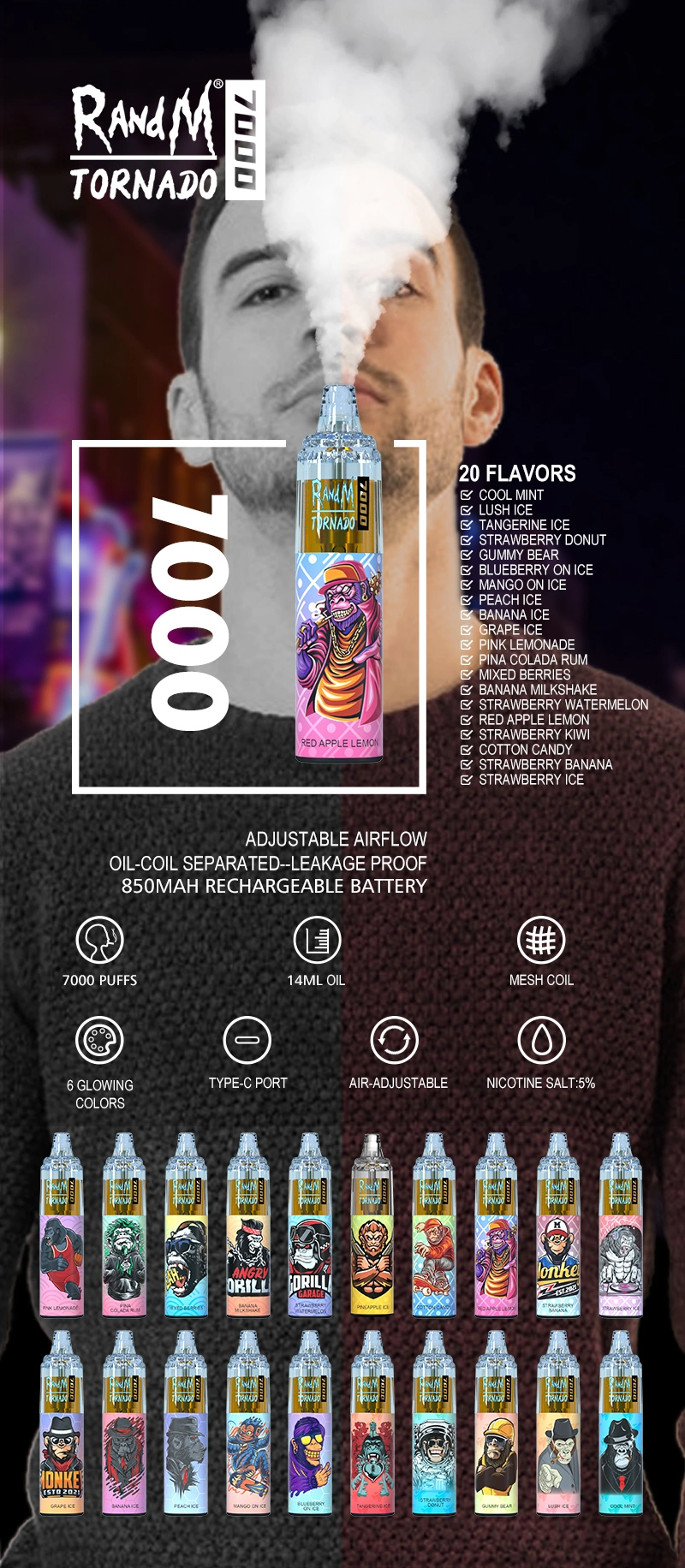 Hot Selling Disposable Randm Tornado 7000 Puffs 850mAh Battery E-Cigarette Vape Pen Device Pod
| | |
| --- | --- |
| Brand | Randm tornado 7000 Puffs |
| MOQ | 100pcs |
| Puff | 7000 Puffs |
| Salt nic | 0%/2%3%/5% |
| Flavors | 50 |
| Bettery Capacity | 1000mAh |
| Shipping | Air shipping/Sea shipping |
| Lead time | 3-5 days for ready stock,around 15 days cusyomize product |
Each box contain 10pcs
400pcs/carton
Carton size (cm): 29*29*69 cm