The RandM Tornado 7000: An Excellent Choice for Red Apple Ice Flavor Lovers
The RandM Tornado 7000
e-cigarette
with its specialized red apple ice flavor cartridges provides an outstanding vaping experience for enthusiasts of this unique flavor profile. The balanced performance and features of the vaporizer, combined with the high-quality flavoring of the cartridges, make this an ideal choice.
The Tornado 7000 offers variable voltage and temperature control, a large 650 mAh battery, and an ergonomic design. These capabilities allow users to fine-tune the vapor production and intensity of flavor to suit their preferences. The OLED screen displays useful information to optimize settings for the best vape.
The red apple ice flavor cartridges showcase a delicious blend of crisp red apple and subtle menthol flavors. The apple flavor tastes natural and juicy, while the menthol note adds a refreshing coolness. The ceramic heating coil preserves subtle flavor notes and produces smooth vapor even at higher settings. Cartridges are available in multiple nicotine strengths and sizes.
Several aspects of the Tornado 7000 and its cartridges work in tandem to optimize the flavor experience:
• The ceramic coil preserves the natural apple flavor and subtle menthol notes from becoming muted.
• The variable voltage and temperature control allow users to bring out either the apple or menthol flavor more prominently based on their preferences.
• The large battery and ergonomic design ensure users can enjoy long, comfortable vaping sessions without interruption.
• The standard 510 threading provides a secure, leak-proof connection for consistent performance from the cartridges.
The flavor cartridges use high-quality, food-grade ingredients that provide a pleasant vaping experience without harsh aftertastes. The vapor production at different settings fine-tunes the flavor intensity. At lower voltages, the flavors are more subtle, while higher settings bring out additional flavor notes.
In summary, the
RandM Tornado 7000
vaporizer's performance capabilities are well-suited to showcasing the nuances of the red apple ice flavor cartridges. The device offers enough customization and power for experienced vapers while remaining user-friendly for novices.
If you enjoy crisp yet natural-tasting red apple ice flavors for your e-cigarette, the
RandM Tornado
7000 with its specialized flavor cartridges is an ideal choice. The vaporizer-cartridge pairing optimizes the flavor experience through technology, design and high-quality ingredients. Overall, the Tornado 7000 provides an outstanding option for red apple ice flavor enthusiasts.
Main Specifications:
Puffs
7000
Battery
850mAh (Rechargeable Inner Battery)
E-liquid Capacity
14.0ML
Type of Coil
Mesh Coil (1.2Ohm)
Nicotine Strength
2% (20mg/ml) & 5% (50mg/ml)
Surface Treatment Style
Anthropoid Style
Regular Flavors
1. Cool Mint 2. Lush Ice 3. Tangerine Ice 4. Strawberry 5. Gummy Bear 6. Blueberry Ice
7. Mango Ice 8. Peach Ice 9. Banana Ice 10. Grape Ice 11. Pink Lemonade 12. Pina Colada Rum
13. Mixed Berries 14. Banana Milkshake 15. Strawberry Watermelon 16. Red Apple Lemon
17. Strawberry Kiwi 18. Cotton Candy 19. Strawberry Banana 20. Strawberry Ice 21. Pineapple Ice 22. Red Energy Ice 23. Blue Razz Lemonade 24. Red Apple Ice 25. Berry Lemonade
26. Blueberry Bubblegum 27. Bluesour Raspberry 28. Mr Blue 29. Apple Peach Pear
30. Blueberry Pomegranate 31. Vimto 32. Kiwi Passion Fruit Guava 33. Cola 34. Sour Apple
35. Blackcurrant Menthol 36. Tiger Blood 37. Peach Blueberry Candy 38. Peach Mango
39. Strawberry Red Bull 40. Blackcurrant Ice 41. Strawberry Watermelon Lemonade 42. Cherry
43. Blue Razz Cherry 44. Skittles 45. Blueberry Raspberry 46. Strawberry Grape
47. Blueberry Cherry Cranberry 48. Apple Berry Blast 49. Cherry Cola 50. Lemon and Lime
51. Pink Burst 52. Pacific Cooler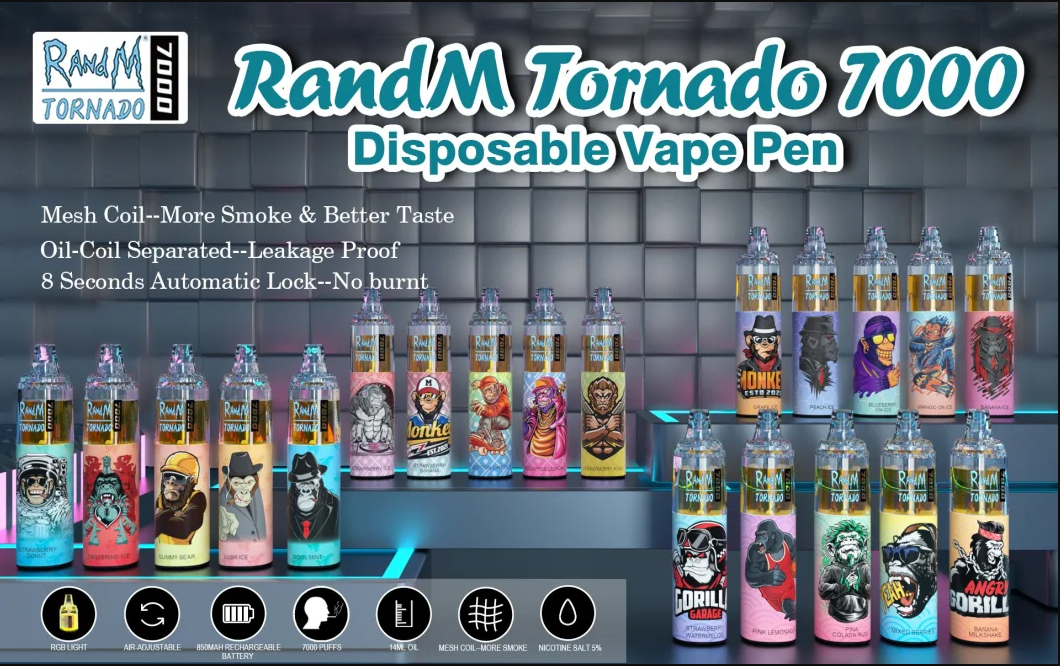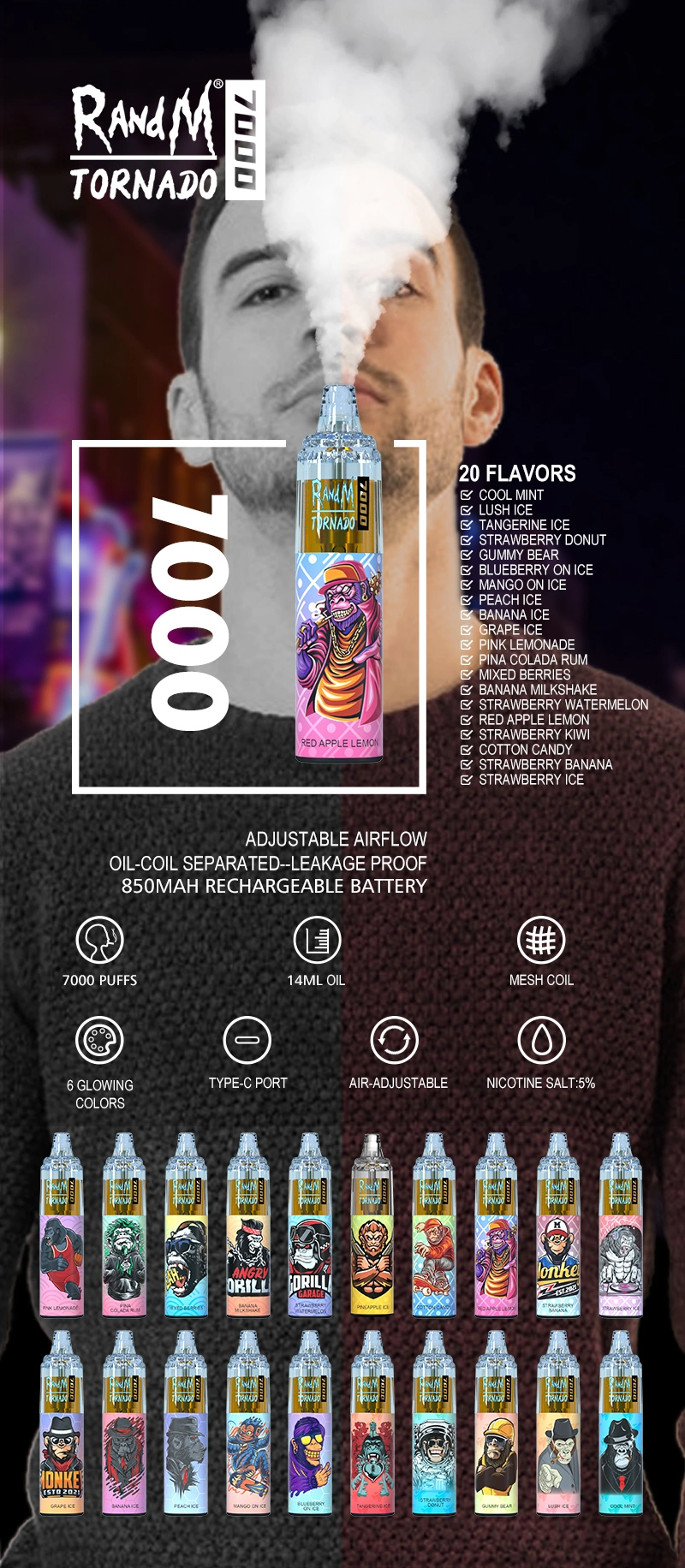 Hot Selling Disposable Randm Tornado 7000 Puffs 850mAh Battery E-Cigarette Vape Pen Device Pod
| | |
| --- | --- |
| Brand | Randm tornado 7000 Puffs |
| MOQ | 100pcs |
| Puff | 7000 Puffs |
| Salt nic | 0%/2%3%/5% |
| Flavors | 50 |
| Bettery Capacity | 1000mAh |
| Shipping | Air shipping/Sea shipping |
| Lead time | 3-5 days for ready stock,around 15 days cusyomize product |
Each box contain 10pcs
400pcs/carton
Carton size (cm): 29*29*69 cm