RandM Tornado 7000: The Ultimate Vaping Experience in Strawberry Grape Flavors
Are you searching for a vaping experience that transcends the mundane? Are you eager to elevate your vaping journey with a flavor that's not just unique, but truly extraordinary? If you answered yes, then I have thrilling news for you. The
RandM Tornado 7000
, with its Strawberry Grape flavor, is poised to revolutionize your vaping experience.
First, let's explore the flavor. This e-cigarette ingeniously combines the sweet, tangy essence of strawberries with the rich, full body of grapes. The result is a one-of-a-kind taste that will make your taste buds sing with delight. Each puff is like indulging in a luscious fruit fusion, transforming your vaping experience into a feast for the senses.
The RandM Tornado 7000's design is another highlight. Its sleek, contemporary style makes it effortless to carry wherever you go. And its impressive battery life means you can relish your vaping experience for extended periods.
But the
RandM Tornado
7000's Strawberry Grape flavor is more than just a flavor. It embodies a passion for life, a quest for new adventures, and a yearning for self-expression. When you light up this e-cigarette, you're not just enjoying a flavor, you're embracing a distinctive lifestyle.
In summary, the RandM Tornado 7000's Strawberry Grape flavor provides an invigorating vaping experience. Its unique flavor and stylish design make it the perfect choice for those seeking an elevated lifestyle. If you haven't tried it yet, I strongly recommend you do. Once you try it, you'll be captivated by its charm.
As an experienced sales representative with three years in the e-cigarette industry, I've seen many products come and go. But the RandM Tornado 7000 stands out for its innovative approach to flavor and design. It's not just a product, it's a game-changer. And I'm confident that once you try it, you'll agree.
So why wait? Step into the future of vaping with the RandM Tornado 7000's Strawberry Grape flavor. It's not just a vaping experience, it's a lifestyle. And it's waiting for you to discover.
The RandM Tornado 7000 provides an unparalleled vaping experience with its Strawberry Grape flavor. But it doesn't stop there. RandM is dedicated to crafting unique flavor profiles that push the boundaries of e-cigarette innovation. That's why, in addition to Strawberry Grape, RandM offers flavors like Blueberry Cherry Cranberry, Mango Passionfruit Guava, and Pomegranate Peach.
With its range of bold, fruity flavors and sleek, user-friendly design, the RandM Tornado 7000 is in a class by itself. Once you go RandM, you'll never go back. Why settle for lackluster flavors and an average vaping experience when you can have RandM?
Life is too short for mediocrity. Choose RandM—and choose a vaping experience that's anything but ordinary. The future of vaping is here. Its name is RandM. Will you be part of the revolution?
Main Specifications:
Puffs
7000
Battery
850mAh (Rechargeable Inner Battery)
E-liquid Capacity
14.0ML
Type of Coil
Mesh Coil (1.2Ohm)
Nicotine Strength
2% (20mg/ml) & 5% (50mg/ml)
Surface Treatment Style
Anthropoid Style
Regular Flavors
1. Cool Mint 2. Lush Ice 3. Tangerine Ice 4. Strawberry 5. Gummy Bear 6. Blueberry Ice
7. Mango Ice 8. Peach Ice 9. Banana Ice 10. Grape Ice 11. Pink Lemonade 12. Pina Colada Rum
13. Mixed Berries 14. Banana Milkshake 15. Strawberry Watermelon 16. Red Apple Lemon
17. Strawberry Kiwi 18. Cotton Candy 19. Strawberry Banana 20. Strawberry Ice 21. Pineapple Ice 22. Red Energy Ice 23. Blue Razz Lemonade 24. Red Apple Ice 25. Berry Lemonade
26. Blueberry Bubblegum 27. Bluesour Raspberry 28. Mr Blue 29. Apple Peach Pear
30. Blueberry Pomegranate 31. Vimto 32. Kiwi Passion Fruit Guava 33. Cola 34. Sour Apple
35. Blackcurrant Menthol 36. Tiger Blood 37. Peach Blueberry Candy 38. Peach Mango
39. Strawberry Red Bull 40. Blackcurrant Ice 41. Strawberry Watermelon Lemonade 42. Cherry
43. Blue Razz Cherry 44. Skittles 45. Blueberry Raspberry 46. Strawberry Grape
47. Blueberry Cherry Cranberry 48. Apple Berry Blast 49. Cherry Cola 50. Lemon and Lime
51. Pink Burst 52. Pacific Cooler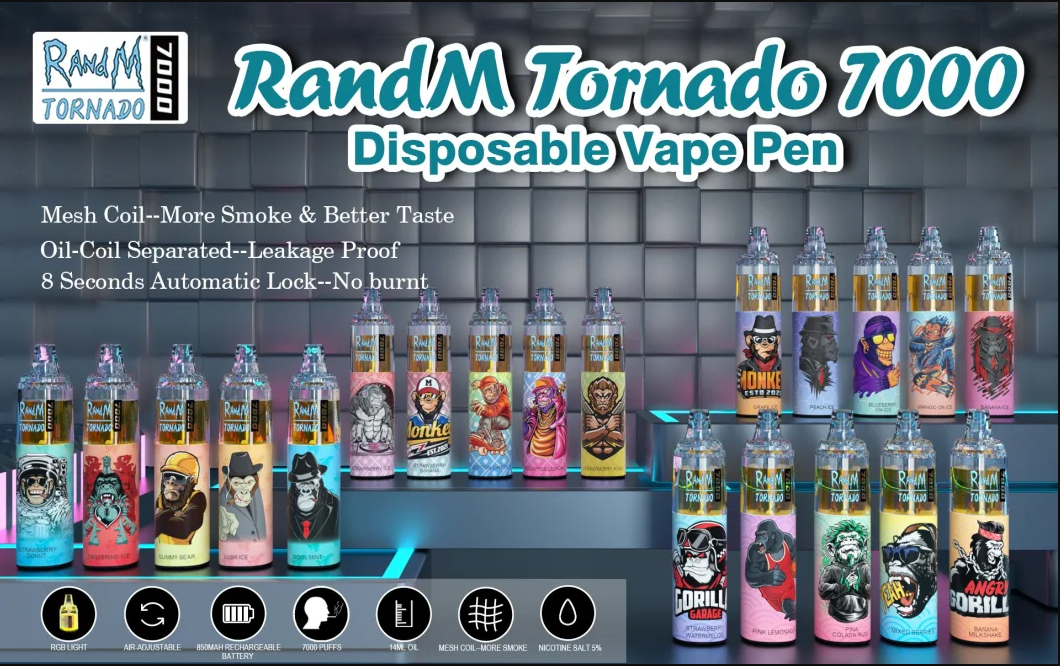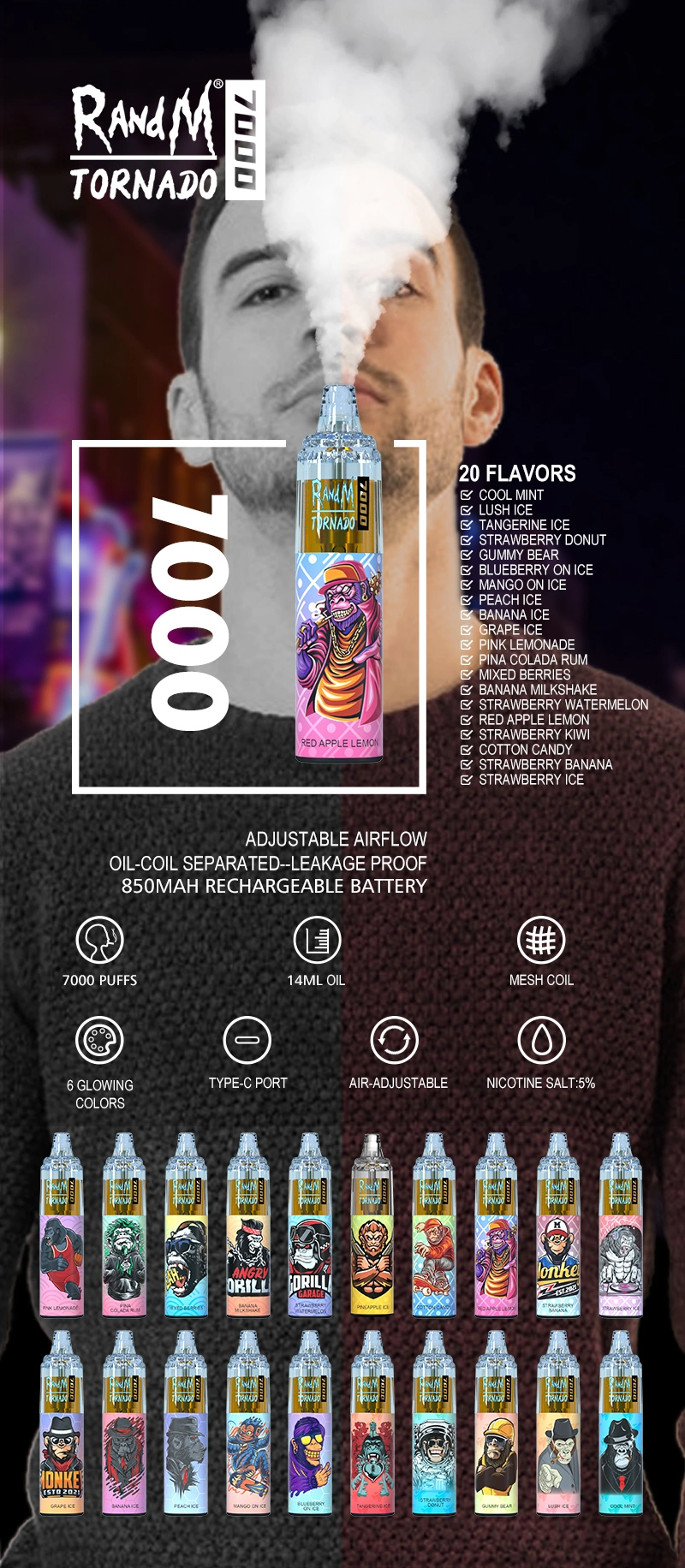 Hot Selling Disposable Randm Tornado 7000 Puffs 850mAh Battery E-Cigarette Vape Pen Device Pod
| | |
| --- | --- |
| Brand | Randm tornado 7000 Puffs |
| MOQ | 100pcs |
| Puff | 7000 Puffs |
| Salt nic | 0%/2%3%/5% |
| Flavors | 50 |
| Bettery Capacity | 1000mAh |
| Shipping | Air shipping/Sea shipping |
| Lead time | 3-5 days for ready stock,around 15 days cusyomize product |
Each box contain 10pcs
400pcs/carton
Carton size (cm): 29*29*69 cm